Portable Brother Printer PJ-722
PJ 722 Portable A4 Thermal Printer, 203 dpi Resolution
Only a printer with a USB cable, a head cleaning card and documentation is included. It is recommended to complete the set on our page with accessories for PJ.
Free delivery from 350 zł
Brother PJ-722 Portable thermal printer in A4 format
The PocketJet is one of the smallest and lightest printers for mobile use. It produces high-quality A4 prints in a space-saving design. No ink or toner is needed to print. It is perfect for people who are always on the move. The Pocket jet can be easily carried in a suitcase or laptop bag, and its few moving parts and robust design ensure trouble-free operation even in the most challenging conditions. The printer has a high print speed of up to 8 pages per minute and the print resolution offered is 203 x 200 dpi. It can print on both A4 sheets and rolls of paper.
Print resolution of 203 x 200 dpi for high quality and legible markings
Easy connectivity via USB 2.0
Support for Windows, Mac, Linux and Citrix
Barcode printing
A4 printing on sheets or rolls of paper
USB cable, printhead cleaning card, documentation included
3-year warranty - REGISTRATION OF THE DEVICE ON THE MANUFACTURER'S WEBSITE IS NOT REQUIRED (details on www.brother.pl )
Application: The device has been prepared for field workers
Brother PJ-722 is ideal for retail, field sales, field service, logistics and procurement, manufacturing and warehousing, public safety, emergency services
PJ-722 specifications
| | | |
| --- | --- | --- |
| GENERAL SPECIFICATIONS | | |
| Printer type | | Mono |
| Printing Technology | | Direct thermal printing |
| Barcode symbologies | | Linear: Code39, Code93, Code128, ITF, UPC-A/E, EAN-8/13, GS1-128 (UCC/EAN-128), GS1 DataBar (RSS), MSI, Industrial 2of5, Postnet 2D: PDF417/MicroPDF417, Data Matrix, Maxicode, QR Code/Micro QR Code, Aztec |
| Maximum paper size | | A4 |
| Paper loading method | | manual loading |
| Printing width | | 204.2 mm |
| Memory | | RAM: 32MB, Flash: 6MB |
| CONNECTION | | |
| USB interface | | Ver.2.0 (Full Speed): Mini-B |
| DIMENSIONS AND WEIGHT | | 255 x 55 x 30mm (W x D x H) / 480g |
| PACKAGED | | uSB cable, Print Head Cleaning Card, Documentation |
| MEDIA SPECIFICATIONS | | From: 105mm x 25.4mm, Up to: 216mm x 8.23meters |
| OPERATING SYSTEMS AND SOFTWARE | | Windows® Vista/7/8/8.1/10, Windows® Server 2008/2008 R2, Windows® Server 2012/2012 R2, Mac OS X v 10.8/10.9/10.10 - Linux |
| PRINTING | | |
| Standard A4 print speed | | Up to 8 pages per minute |
| Resolution | | 203 x200dpi |
| Bitmap fonts | | Helsinki, Brussels, Letter Gothic Bold |
| Outline/vector fonts | | Helsinki, Brussels, Letter Gothic |
| Font size | | 10,12,15 characters per inch and proportional sizes |
| Number of pages that can be printed without charging the battery | | approx. 600 pages (depending on the working environment) |
| Emulations | | ESC/P-P, ESC/P_B, Raster_P, P-touch Template |
| OPTIONAL ACCESSORIES | | 10.8V Li-ion rechargeable battery, 15V AC adapter, Car adapter |
| WORKING ENVIRONMENT | | |
| Temperature | | -10°C to +50°C (during operation)/ -20°C to +60°C (during storage) |
| Humidity | | 20% to 80% (non-condensing - operating and storage) |
| Automatic shutdown | | yes, 15 settings |
Why use Brother PJ mobile printers?
In the modern business environment, companies strive to stand out from the competition. That's why they invest in technologies that increase employee productivity and improve customer satisfaction. Today, portable printers are considered an integral part of mobile equipment. They provide a number of benefits to those working in the field, thereby increasing profitability
Benefits of mobile printing
Increased productivity, freedom and mobility,
Reduced office management costs
Increased customer confidence by printing on-site
Improved accuracy and reduced human error
Valuable business tool for immediate transactions
Where do you use mobile devices Brother?
field sales - When you use the PJ-700 series printers on the move or at the meeting point, you go beyond standard customer expectations. Busy sales professionals will print any needed document at the customer's site, without the hassle of calling the office. This gives them more time to visit more contractors.
field service - Service technicians increase efficiency and accuracy by leaving document printouts at the customer's site. This reduces the potential for future problems
logistics / Procurement - Documents can now be printed while parked in the car or at the customer's premises. High print speed perfectly meets the needs of busy couriers
manufacturing / warehousing
public safety / emergency services - The PJ-700 series printers are increasingly popular with emergency services personnel as they offer a wide range of applications. Combined with a car holder and charger, these devices have become the perfect tool for police, health care professionals or fire departments around the world. Printing medical documents or fines on the spot reduces the risk of document mistakes. This saves rescuers and police officers valuable time.
Thermal printing technology
When considering mobile purchasing options, key decision makers are increasingly looking to thermal printers as the only reliable solution for workers in the field. Devices that use advanced thermal printing technology create images by heating paper coated with a special thermosensitive coating. As the paper passes over the print head, the coating turns black when heated, producing the printed image. Thermal printing is increasingly considered the only practical solution for mobile applications for several reasons:
It allows employees to focus on the tasks at hand without the inconvenience of having to purchase ink, toner or ribbons and incurring additional costs.
It eliminates the risk of having to stop work because the ink, toner or ribbon runs out at the wrong moment
The device can be installed anywhere and in any position. You can carry it with you without fear of spilling ink or toner or soiling your clothes
It is less susceptible to changes in temperature and humidity than other mobile technologies.
Software
Brother also provides the tools developers need to integrate printing functionality into a mobile application. Printer drivers are available for Windows operating systems, and on request, developer tools for Apple iOS, Android and Windows Mobile applications. For more information, visit Brother
Why Brother PocketJet mobile solutions?
Brother is a provider of mobile printing and scanning solutions. It offers a wide range of portable devices - from A4 document printers to label or receipt printers. Everyone will find a device to suit their needs. The mobile solution of the form Brother can be used in various sectors, such as health care, sales or service.
Printing on the go
Replace handwritten documents with professional-looking printouts. Mobile solutions Brother reduce time and costs by enabling remote printing. Mobile printers Brother are ideal for those working in the field. a wide range of accessories, such as a car mount, carrying case or car power adapter enable you to work in any environment.
Lightweight and reliable mobile printers
Brother 's extensive range of mobile printers ensures reliability in even the most demanding environments with compact and lightweight devices. The Brother mobile printers have been developed for those working outside the office, so there is no need to sacrifice quality for mobility.
Increase productivity and reduce document processing time
Brother mobile solutions increase productivity by shortening administrative processes and increasing customer satisfaction by providing immediate documentation. Mobile printers replace the need to sign documents and send them back to headquarters for printing. This speeds up the customer service process and increases efficiency. Wireless, Bluetooth and USB connectivity options allow employees to print on the go.
10 other products in the same category: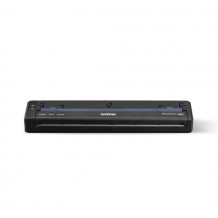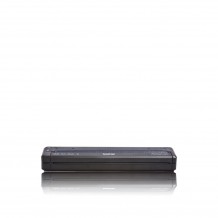 Portable Brother Printer PJ-762